Welcome
All Aspects Wedding Services - the one stop wedding shop for WEDDINGS.....where personal service is guaranteed in this warm and friendly family run business. Based in Bournemouth and celebrating their 23rd year, they will endeavour to make your special day wonderful..
But it doesn't stop there - Should you want us to, we can arrange every detail from your bridal gown & bridesmaids dresses, to wedding car hire, we will even come and dress you on the day. We are a one stop shop for weddings where nothing is too much trouble, we aim to be more than just a wedding shop - to offer advise, to be honest and to be a friend. Because we care. we get it right!
Gill and her friendly staff are available to help you plan "the big day". We encourage you to make an appointment so that we can provide you with a more personal service and give you the time needed. Nothing is too small for our attention.
We know how to advise and when to listen.
Nothing left to chance, nothing forgotten All Aspects Wedding Services can give you the complete service to make your wedding perfect. We will provide every detail, simply guiding you through the maze of decision making step by step.
Please have a look at our Bridal Gowns, Bridesmaid & Prom Dresses, Men's Hire Department, Wedding Cars, Dressing Service, Awards, Promotions and Testimonials sections whilst you are here.
We are the proud owners of Superwed Cars... offering a fantastic range of classic, vintage, modern and the more unusual bridal car.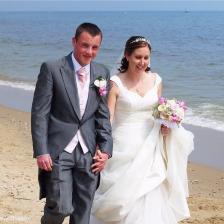 Thank you so much Gill, you were amazing in all that you have done to put everything together for me & Jay, the bridesmaids, the flowergirls and the suits were fantastic.
We had the most wonderful day with our loved ones and family.
Thanks again xxx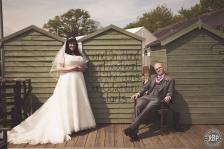 To Jill & her amazing team,
The bride looked stunning! Thank you for all the kindness, courtesy (and patience) shown to Caroline and her mum! The service that you provided at every stage was absolutely exemplary. You helped and guided us when ordering of stationery, you provided me with the most beautiful wedding gown, the bridesmaids dresses were exquisite and the grooms suit, Along with a groomsmen's suits were exactly what we wanted. You supported us every single step of the way, you were incredibly patient and flexible. Thank you for allowing me to come in many times and try on my dress in my bid to slim down for the wedding. Thank you for all the help in sourcing the right colours, the right styles and organising such a wonderful seamstress. We would recommend you to anyone for any aspect of their wedding planning. Your range is wonderful, fairly priced and great quality!

Your whole team, headed by Gill, are enthusiastic passionate and knowledgeable and professional. Thank you so much for making a special day so wonderful! Best wishes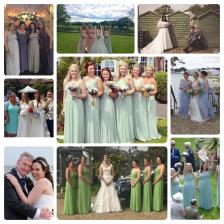 A few more photos from some of our lovely customers
So lovely to see so many smiling faces!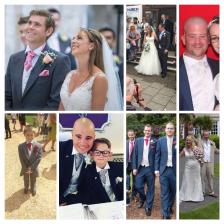 And we can't forget the men...


All looking very handsome!
Some stunning photographs here from weddings in the summer
The colour combinations are gorgeous!
Great photos of some of the outfits we have provided this summer...
It was lovely to work with so many happy couples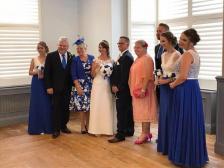 Thank you Gill for your professional but friendly service.
We had a fab wedding day and loved the dresses.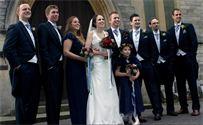 Dear Gill & Simon,
Just a note to say thank you for all your help with the wedding.
The guys looked resplendant in their suits which fitted beautifully and Ellen looked gorgeous in her dress.
The cars looked great and it was lovely to see you both on the day.
Thanks to Jude and Sam for the alterations. Must catch up soon.
Love from
Jessica and Tom
Dear everyone at All Aspects,

I first went to see Gill for my dress, she made me feel at ease and gives great advice, which stayed with me throughout the whole process. I then went to All aspects for guidance with bridesmaid dresses, well this was the most stressful part of the wedding! Gill sorted everything, she organised the bridesmaids, helped pick styles to suit all of the girls and took away the stress, this continued when we came across issues with the colour of the dresses, one call to the shop and it's like they have a magic wand, we were in with Gill and she was resolving the issue. The teams Customer services can not be faulted. Their next mission was to sort out the groomsmen, that was something I wouldn't wish on anyone!!!! The boys were treated lovely and with a professional attitude but Gill was not going to take any of their grief, for once they did as they were told, whilst having a giggle. I love that about All Aspects they listened to my Husband and I (well mainly to me) and our vision of styles and colours were brought together, with guidance and the patience of a saint. I felt like the craziest, fussiest bridezilla until Gill and the girls stepped in and were able to reassure me, I can honestly say they were A god send and I can not recommend them enough, I didn't feel like a customer, you become part of a family and your needs and requirements are given 100% all of the time! I would pick Gill and her team over and over again! Thank you to Gill and All Aspects team for everything you did for our wedding, everyone looked and felt amazing.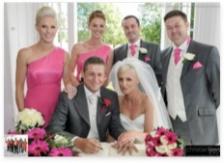 To all the lovely ladies at All Aspects,
We just wanted to say a Very big thank you for all your help with finding the Perfect Suits and Bridesmaids dresses for our Big Day.
Nothing was too much trouble and you gave us exactly what we wanted.
You made the whole experience wonderful. Thank you for putting up with us all. We will certainly be recommending you to all our friends.
Thank you again xxxxxxx
A small selection of some of our fabulous customers from May 2016



You all looked sensational!